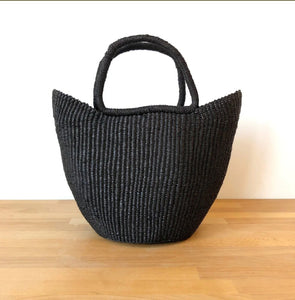 Our basket is are Fair-Trade and made by women in Northern Ghana. The main material used is straw, obtained from a tropical, fast-growing grass locally (veta vera)  known as  Elephant grass . The ideal basket for your everyday essentials and can be used for different occasions.
Width: 12" at top
Height: 12"
Depth: 8"
CARE: Spot clean using minimal water. Dab (do not rub) using an undyed paper towel or cloth to prevent the colors from bleeding. Dry completely to avoid molding. To preserve the natural colors and stop fading, do not place in direct sunlight.
Be mindful the natural dyes may transfer onto light surfaces.
*Do not place in sunlight.