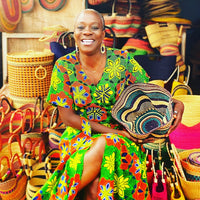 Thanks for stopping by
We are committed to making sustainable designs that support the artisan community within Africa. 
Our handbags are made using 100% African prints sourced and made from fabrics made from around the Continent. Baskets are made using locally grown and sustainable Sisal fibers and Elephant grass sourced in Ghana, Rwanda and Kenya.
The dyes used for my products are all naturally made. Our artisan have decades of experience past down from generation to generation in the weaving business. With every purchase of my product you are also supporting their work, educating and maintaining their families and more.
Gigi has spent her life surrounded by Ankara fabric or lappa as its called in Liberia. The lappa is used in everyday life from carrying children to balancing items on one's head to be carried to being made into some fantastic designs for clothes for special occasions and other events. 
Vai Girl is committed to working with the community in Liberia and here in NYC. So remember to follow me on instagram (@vaigirllib ) as I take you along on my sourcing trips twice a year and show you the collection in action.